Managing your social media accounts can be overwhelming especially if you have a myriad of other duties to tackle daily.
Many people are willing to smartly delegate responsibilities and by so doing lighten their load and free up much needed time to focus on other aspects of life.
A Facebook Fanpage calls for fresh, quick and up-to-date generation of interesting content to keep your fan base engaged and interested. Delegating this duty can be done through adding an administrator to your Facebook fan page. Here's how:
Step 1: Log in to your Facebook fan page
From an internet connected desktop computer, log on into your Facebook fan page. While here access the "Admin Panel" which gives you various choices of what actions to take such as "Edit Page", " Build Audience", or seek "Help". In this case your focus is to select "Edit Page".
Step 2: Click on "Edit Page"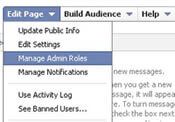 Located at the very top of your Facebook fan page is the "Edit Page" icon.
Click on it and it will reveal a drop bar with various prompts such as "Edit Settings" and "Manage Admin Roles" among others.
Your interest is in the "Manage Admin Roles" prompt.
Step 3: Click on "Manage Admin Roles"
Once at the "Edit Page" prompt, click on the "Manage Admin Roles" in order to access the option of adding a new administrator's name and email address.
Remember Facebook fan page administrators can take on different roles, therefore be sure to assign accordingly. However any administrator becomes a "Manager" by default.
Step 4: Click on "Manager"

Selecting the "Manager" option below your newly added administrator's name allows for you to customize which particular roles, if any, you would want to specifically assign them with.
Administrator roles include Manager, Content Creator, Moderator, Advertiser, and Insights Analyst.
Step 5: Click "Save"
In order to authenticate the above changes, you must save them otherwise nothing will take effect. For security purposes, you will be prompted to enter your Facebook fan page password so as to ascertain that you are indeed the responsible party making these changes.
Once you hit the "Save" button you can let your newly selected administrator know of their new duties so they can begin to execute their assignments.
Should you, in the future, need to make any changes on the administrative duties you have assigned this particular, or any other administrators, you will just need to repeat steps 4 and 5.
Choose your next administrator wisely knowing the effect their posts and contribution could have on your brand and your online reputation.